Annual Community Sponsorship Program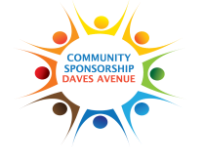 Our Annual Community Sponsorship Program allows local businesses to support ALL of Daves Ave H&SC sponsored events, through out the entire year!
Instead of choosing a single event to sponsor, community participants can now donate ONCE, and in exchange receive heavy promotion to our parents and largest donors at all major H&SC events. This includes, but is not limited too: Family Fun Night, Fun Walk, Cool Cat Auction (adult auction), Author's Day, and the Carnival & Talent Show.
With FOUR different sponsorship levels to choose from, there is a contribution level fit for all. Please click
here
to explore the differences between each level, and their unique promotional opportunities. Funds collected from our Annual Community Sponsorship Program support many things, including the following essential programs at Daves Avenue:
·
Technology
for
advanced
instruction
(smart-boards,
computers
and
tablets)
·
Teacher
training
and
professional
development
for
implementation
of
Common
Core
Curriculum
·
Reading
and
Math
Specialists
·
Science
materials and
scholarships
·
Physical
Education
Teacher
(for
state
mandated
PE
education)
·
A
Health
Clerk
If you are interested in contributing, please click here for our online donation form. The deadline to be represented on our Fun Walk t-shirts, which are supplied to ALL students and staff, is September 16, 2016. If you have any questions, please contact our
ACSP Chairs
.
On behalf of the students & teachers of Daves Avenue Elementary, we
thank you so very much
for your support!
Hard copy forms available by
clicking here
.
---