Annual Community Sponsorship Program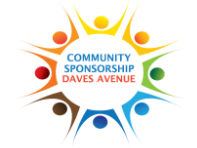 Our Annual Community Sponsorship Program allows local businesses to support the Daves Avenue Home & School Club (H&SC) sponsored events through out the entire year!
Thank you for your interest in supporting Daves Avenue Elementary School! With your partnership, the Daves Ave H&SC will be providing financial assistance to fund key educational programs important for the nearly 600 students that attend Daves Avenue Elementary School.
Funds donated to our H&SC support many things, including the following essential programs at Daves Avenue:
Technology for advanced instruction (smart-boards, computers and tablets)

Teacher training and professional development for implementation of Common Core Curriculum

Science materials and scholarships

Recess/Lunchtime Enrichment

Field Trips & Transportation
As a community supporter of Daves Avenue, we will ensure your presence on our campus and all H&SC events, prominently displayed on our website, direct communication with parents and on t-shirts given to each and every one of our kids. What an amazing way to reach your consumers…AND feel great about your community support. We look forward to working together in supporting our school and bring together the greater Los Gatos community.
We have FOUR different sponsorship levels to choose from, there is a contribution level fit for all. See below to explore the differences between each level, and their unique promotional opportunities. If you are interested in contributing, please click here for our online donation form. The deadline to be represented on our Fun Walk t-shirts, which are supplied to ALL students and staff, is

September 14, 2018

. Thank you in advance for your generous support of Daves Avenue and if you have any questions, please contact our ACSP Chairs. On behalf of the students & teachers of Daves Avenue Elementary, we thank you so very much for your support!
If you prefer to donate via check with a hard copy form, please click here.
*First right of refusal to previous event sponsor by 8/24 or first come, first served if event is available.