The 2019 Carnival was a blast! Look for info on the 2020 Carnival in the Spring...
The Home & School Club Presents the 43rd Annual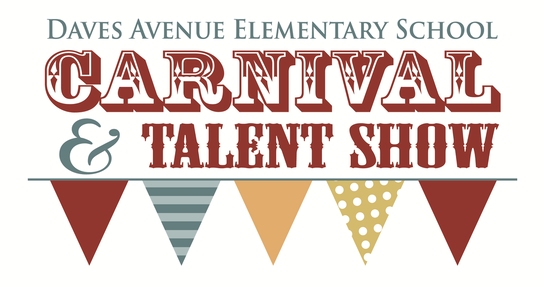 Friday, May 31st from 4-8pm
Daves Avenue Blacktop and Field
The Carnival is our annual school-wide end-of-the-year event where families enjoy our Daves Avenue Student Talent Show, DJ, cake walk, inflatables, carnival games and prizes, photo-booth, and more!

$15 wristbands for kids ages 5 and older gives them unlimited access to all Carnival activities. Adults are admitted free of charge. Food is available for purchase during the carnival - enjoy fresh-from-the-oven pizzas, delicious sliders, hot dogs, popcorn, cotton candy and shaved ice. Pre-purchase wristbands below.

TALENT SHOW
Sign ups for the Talent Show have ended.
We can't wait to see our talented Cool Cats on the Stage!

VOLUNTEERS!
This event needs volunteers to be a success! We are looking for several parent volunteers to assist with various Carnival duties at the event. Most shifts are only one hour in length so you may enjoy the Carnival with your kids! Please sign up if you can help out by taking a shift or two. If you have Fisher or Los Gatos High School students who would like to volunteer at the event and earn community service hours, please use the sign up buttons below.
CAKE WALK
The Cake Walk is one of the most popular activities at the annual Carnival! Thank you for contributing your baked goods.
Use the link below to sign up to bring cakes, cupcakes, cookies, rice krispie treats, brownies, or other baked items. NO NUTS PLEASE!
Items should be packaged together as "prizes" according to the following examples:
1st prize: 1 cake, or 6 cupcakes, or 12 cookies
2nd prize: 2 cupcakes or 4 cookies
3rd prize: 1 cupcake or 2 cookies
EACH packaged prize you contribute would be one spot on the sign up. So if you bake 24 cookies and package 12 in each package, those would be TWO 1st prize items and you could indicate that you were signing up for TWO SPOTS on the form.
Sign up
HERE
.
Please drop off your items in the teachers' lounge on Thursday, 5/30 or by 10am on Friday, 5/31.
​If you have any questions about the cake walk, please contact
Jill Cox
.
PRE-PURCHASE WRISTBANDS HERE!
THANK YOU TO OUR SPONSOR