2019-2020 Open Chair Positions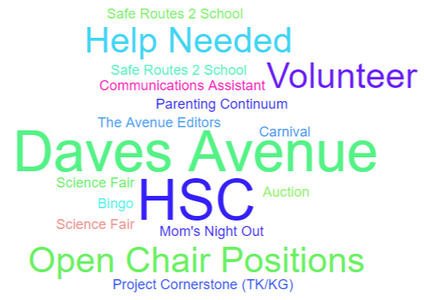 The following positions are open for the 2019-2020 school year. We need your involvement to continue our exciting Events and Programs next year.
​
Annual Community Sponsorship (Primarily consists of telephone outreach from home. Bulk of work in Aug/Sept and winds down by October)
Reach out to local companies to obtain sponsorship donations for our school events. This important position brings in additional funds to help the H&SC sponsor our amazing community events.

Auction (A hands-on position that requires day-time meetings with Auction committee)
The auction is our annual, adult-only spring fundraiser. Duties start in the late fall with a kick-off meeting and ramps up after the holiday break. With a solid team of volunteers, the auction chair can make this fundraiser a huge success! This involves all aspects of a big event – marketing, auction solicitation and management, volunteer recruitment, venue procurement, food selection, and decorating. This auction helps us raise money for our valued programs and events at Daves Avenue.

Bingo Co-Chair (Pre-planning work then on site the night of Bingo Night in February)
Responsibilities include: MCing the event, logistics/facilities planning, marketing (flyers, H&SC site, Wednesday Wave, Volunteer Spot, signage), determining food offerings/pricing, recruiting volunteers and collecting prize donations. This is a family-favorite event each year!

Carnival Co Chair (Most work can be done from home with several committee meetings to be held in the Spring & on site day of carnival) The end of the year just wouldn't be the same without the carnival or the talent show! The carnival has games, prizes, bouncy houses, face painting, food, and more. The responsibilities start at the beginning of the year with bookings and then activities ramp up in the spring. The carnival chair manages volunteers, games, food, and all of the logistics.

Communications Assistant (All work can be done flexibly from home - perfect for a working parent.)
The Communications Assistant works with the Communications Officer to update the HSC website, edit and create online forms, create and send Constant Contact emails and make Facebook posts.

New Family Committee (Requires several committee meetings to plan activities, and attendance at the events)
​This committee's job is to ensure all new Daves Avenue families feel welcomed to our school community. This also involves planning one New Family Orientation the day before school starts and one in the winter. The committee ensures the new families know who to contact when they have questions and plan family picnics, hikes, playdates, etc.

Newsletter Editors (Perfect for working parents)
THE AVENUE is our school's primary source of communication from the Home & School Club. The editors collect, edit and design the content using Constant Contact. The editor should have some experience with graphics, layout, and basic editing. Each edition takes 2-3 hours to produce weekly. Co-chairs rotate the editing efforts weekly so the work is shared. It's a fun job and a great way to be connected to all the happenings at Daves Avenue.

Parenting Continuum (Perfect for working parents) This person is a liaison to an organization that provides essential, educational opportunities for parents. These events encourage continued learning about children and parenting. Time commitment is minimal.

Safe Routes 2 School (Requires some day-time meetings/planned activities at school) The SR2S Coordinator will attend monthly scheduled SR2S meetings to promote safety and safety education to our kids and our community. They will also need to recruit volunteers to help with encouragement, education, and events such as student travel tallies, walking and biking assessments, the 4th grade Bike Rodeo, Walk and Roll to School week, Take it to the Streets week, kindergarten and second grade traffic safety presentation, helmet giveaways, and more

Science Fair Co-Chair (Requires some day-time meetings/on site involvement in Science Fair in April) Sparking the curiosity in all of our kids! You will work with your committee to promote and plan all of the logistics of the Daves Avenue Science Fair. From sign-ups to takedown. This is a great way to teach learning can be fun!
If you would like more information on any of these exciting volunteer opportunities please contact Lani Harr at vp@davesavehsc.org.