2019-2020 Open Chair Positions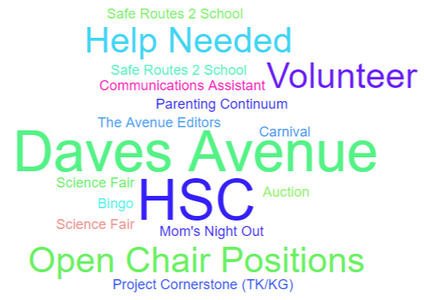 The following positions are open for the 2019-2020 school year. We need your involvement to continue our exciting Events and Programs next year.
*Positions in
red
are especially friendly for working parents who would still like to volunteer their time. They offer more flexibility, or can mostly be done from home.
​
​
Carnival Co-Chair
(Most work can be done from home with several committee meetings to be held in the Spring & on site day of carnival)
The end of the year just wouldn't be the same without the carnival or the talent show! The carnival has games, prizes, bouncy houses, face painting, food, and more. The responsibilities start at the beginning of the year with bookings and then activities ramp up in the spring. The carnival chair manages volunteers, games, food, and all of the logistics.
Communications Assistant
(All work can be done flexibly from home.)
The Communications Assistant works with the Communications Officer to update the H&SC website, edit and create online forms, create and send Constant Contact emails and make Facebook posts.
Corporate Matching
(can be done from home)
This coordinator tracks parent donations that can be matched through employers and encourages parents to ask for matching funds where applicable. This person also meets with the VP of the H&SC Board to reconcile and confirm donation matches. This is a great position for someone who has limited time or wants to do something behind the scenes.​
Green Team Co-Chair
(weekly meetings on Tuesday afternoons and project/event planning)
The Daves Avenue Green Team is comprised of a group of students who take a leadership role in identifying and implementing solutions to make Daves Avenue a "greener" school. We are looking for a Co-Chair to help encourage awareness in students regarding the choices they make and how they may impact the environment. Additionally, the Co-chair will help run weekly meetings (September - May), and plan events, projects, and activities that will encourage awareness in regards to Earth Day.
Newsletter Co-Editor
(All work can be done flexibly from home.)
THE AVENUE is our school's primary source of communication from the Home & School Club. The editors collect, edit and design the content using Constant Contact. The editor should have some experience with graphics, layout, and basic editing. Each edition takes 2-3 hours to produce weekly. Co-chairs rotate the editing efforts weekly so the work is shared. It's a fun job and a great way to be connected to all the happenings at Daves Avenue.
Safe Routes 2 School Co-Chair
(Requires some day-time meetings/planned activities at school) The SR2S Coordinator will attend monthly scheduled SR2S meetings to promote safety and safety education to our kids and our community. They will also need to recruit volunteers to help with encouragement, education, and events such as student travel tallies, walking and biking assessments, the 4th grade Bike Rodeo, Walk and Roll to School week, Take it to the Streets week, kindergarten and second grade traffic safety presentation, helmet giveaways, and more.
If you would like more information on any of these exciting volunteer opportunities please contact Emma Garner at covp@davesavehsc.org.