Project Cornerstone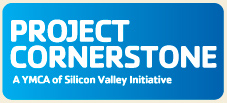 Project Cornerstone is committed to helping all children and teens in Silicon Valley feel valued, respected and known. Our programs and services help individuals and communities build a web of support around young people so that they grow into healthy, caring and responsible adults.
Why Project Cornerstone
Project Cornerstone is building a community where all adults support children and teenagers so that they thrive. We work within the YMCA of Silicon Valley and more than 400 schools and community partners to change the personal behavior of adults, strengthen programs that serve youth, and impact public policy.
Through our Community Partnerships, we provide training and consulting on building strength and resiliency in youth to thousands of adults who regularly touch young people's lives. Our School Partnerships empower young people, parents, and school staff to improve school climate and create vibrant, caring communities of learners. Our in-school programs include:
To learn more, please
click here.
To get involved with Daves Avenue Project Cornerstone, please contact our
Project Cornerstone Committee
.