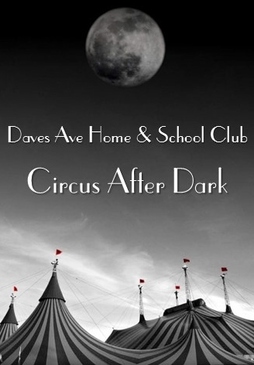 The Circus After Dark is the Home & School Club's biggest fundraiser event of the year! The event features both a Premier Silent Auction and a Live Auction, as well as food, cocktails and dancing.

This year's event will take place on
Saturday, March 28 from 5:30-11:30 p.m.
at La Rinconada Country Club

Our goal this year is to raise $100,000 to directly support the students and faculty at Daves Avenue.

Here's how you can help:


If you are already "One-and-Done"...
If you contributed $400 per child as part of our "One-and-Done" campaign, your tickets are free. Please RSVP for you and your guest via the button below.
If you are a member of the Daves Avenue Elementary Staff…
We would love to have you join us! Tickets for staff are free. If you wish to bring your spouse or a guest, their ticket is $40.
If you wish to contribute….
If you are interested in contributing to the Circus After Dark event through auction item donation or via our "Fund the Need" efforts, please click one of the following buttons:
Please contact the Circus After Dark Chair with questions or comments:
Kim Simon

Don't miss out on this fun evening, benefitting the students & staff of Daves Ave Elementary School.

Thank you for your support!