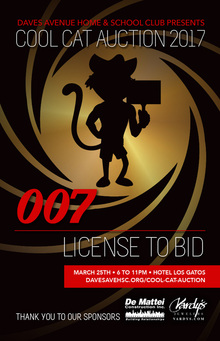 Our annual Cool Cat Auction and fundraiser for the Daves Avenue Home & School Club.

Hotel Los Gatos
March 25, 2017
6:00pm – 11:00pm

Who Should Attend?
This is an adult only fundraiser, open to everyone in our Daves Avenue Family, parents, teachers and staff.
Come Dressed to Kill!

Registration is now CLOSED! We hope to see you there!

If available, tickets will be offered the night of the event at a higher price.
Your registration includes:
Valet Parking

Hosted Signature Martini from 6:00pm – 7:00pm (or until drinks last!)

Hor-d'oeuvre Menu

Coffee, Tea and Water

Dancing with Music by DJ Zhaldee

Set-up a SchoolAuction (SA) Account and Register:
When you register, you will first need to set-up an account in the SchoolAuction system. This only takes a minute. Simply input your e-mail address and an invitation will be emailed to you immediately. Follow the link in your email to set-up your account and register. You will have the option to keep your card on file and can use that upon check-in at the event. Your account will also enable self check-out at the end of the night.
SchoolAuction site will be available on this site beginning February 20.
Registration Rates
ONE and DONE Supporters in Advance*: $75
ONE and DONE Supporters night of event: $125
General Admission **: $125
General Admission night of event: $200
*The registration rate is per person and available only to those individuals whose families have participated in the ONE and DONE Fundraising Campaign at Supporter Level or above. **This registration rate is per person and available to those individuals whose families have NOT participated in the ONE and DONE Fundraising Campaign.
Check-In / Check-Out
Upon arrival at the auction, you will need to stop at the check-in table. Please give the registrar a credit card to use or authorize the card that you purchased your admission tickets with in advance. You will receive your bidder number and paddle. Use your bidder number to bid, or purchase items and/or make donations.
As you depart for the evening, you can stop by the registration desk, review your items and finalize your donation. You also have the option to self check-out on your mobile device. Just be sure to pick-up any of your certificates, items or wine that you purchased before you head out.
Features
We have lots of fun activities planned for our evening. There will be a variety of opportunities to participate within a wide range of budgets.
Live Auction

– We have a great line-up of auction items just waiting for the highest bidder!

Silent Auction

– Lots of great auction items are coming in that you won't want to miss as you make your rounds through the beautiful ballroom. Keep an eye on your favorite silent auction item as your friend might sneak up and outbid you!

Party Sign

-

Ups

– Same great parties and LOTS of new parties too! You won't believe how we are going to party this year! Sign-up as a couple or an individual for a flat attendance fee. There are even parties for the kids. Space is limited for all parties, so make sure you sign-up early.

Wine Pull

– Feeling Lucky? Make a donation and pull from an assortment of wrapped wines. All wines have a minimum dollar value of $20, but you could turn your donation into a $100+ bottle of wine! Either way you win as you get to keep the bottle of wine that you pulled.

Martini Madness

– Always a fun time! Make a donation, take a martini shot, turn your empty glass over and reveal your winning number. Every player is a winner!

Raffles

– Buy a ticket or two for a chance to win one of our fabulous raffle prizes.

Teacher Features

– Our FABULOUS Daves Ave teachers have generously donated baskets and sign-up parties. Your child might be able to spend a day with their teacher doing a fun activity!

Fuel The School

– This is your opportunity to make a straight donation to our school and our students.

Dancing

– After the live auction is done and the silent tables are rolled up, don't let the party stop. We will keep the fun going with dancing until 11:00pm!

Auction eCatalog
Watch our website the week leading up to our Auction as we will start to post items. You can also start to register for some of the sign-up parties. March 21-23 we will be in front of the school selling pre-auction items as well opening registration for the sign-up parties.
Food & Beverages
All food and beverages are provided by Dio Deka. No outside food and beverages are allowed.
Parking
Hotel Los Gatos will provide valet parking for all of our guests. Please also consider using Uber or Lyft.
Tentative Schedule
6:00pm – Arrive and Check-In

6:00pm – 7:00pm – Hosted Martini Hour, Passed Hors-d'oeuvres, Sign-Up Parties and Raffles are available

7:00 pm – Move up to the ballroom,

Silent Auction, Wine Pull, Martini Madness, Sign-Up Parties, Teacher Features and Raffles are all available

8:15pm – Silent Auction and Raffles close

8:30pm – Live Auction & Raffles

9:30pm – Dancing

11:00pm – Depart & Final Check-Out
Can't Go?
If you cannot make it to the auction this year, you can still participate in our fundraiser. We will also accept cash donations right through our registration system.
As in the past, there may be opportunities to bid on unclaimed auction items or sign-up for the parties. This is based on availability and is not guaranteed. Any opportunities will be communicated immediately after the auction.
CALL FOR COOL VOLUNTEERS
We are looking for some "Cool Cat 007 Agents" to help us organize and coordinate various projects for our fundraiser. We are also looking for some help on the actual night of the event. Please contact
Nicole Reginelli
if you would like to volunteer.
AUCTION ITEMS
Do you have a house or a timeshare you won't be using in Tahoe, Napa, Southern California, etc? Tickets to a sporting event - Warriors, Giants, A's, etc? Concert tickets? A service or an item that would be a great auction item? Email
Nicole Reginelli
and she will be happy to take it off your hands.
PARTY HOSTS
We are looking for party hosts! Plan it yourself or grab a friend or two to help throw a party to support our school. It can be as big or small as you would like - for kids, families or adults. Bowling, Beer Tasting, Bocce Tournament or Progressive Dinner Party? Want to through a party, but you cannot think of the right event? Let us know, we have lots of ideas to share. Email
Leasa Joos
to help you find the right one.
GOT WINE?
We are looking for bottles of wine to be donated for a fun wine pull at our event. If you have a bottle or two (or are willing to get one), please donate them. You can drop off your wine in front of the office every Monday at 8:00am starting on Monday, February 6. If you wish to schedule a different drop off time or you have questions, please email
Pamela Wilde
. These bottles should be special bottles that you would give as a gift ($20 or greater in value).
ATTEND!!
Come join the fun and support Daves Avenue on
March 25 at Hotel Los Gatos
! Look for your invitation in February for this unforgettable event.
MORE FUN STUFF
Payment Policy
Payment is expected the night of the event. Attendees will have their credit card captured upon check-in. Nothing will be charged to the card at that time. Attendees can either check-out at the end of the night or initiate self-check-out via their mobile device. If attendees miss the onsite or self-check-out, they will automatically be checked out the following day and their credit card will be charged.
Refund Policy
All sales are final.
Questions?
Please email
Nicole Reginelli
.
Sponsors
Thank you to our event and Community Sponsors
BrandVia
Del Grande Dealer Group
Hall & Burnettt Orthodontics for Children & Adults
Sanyo Pipelines
Level 10 Construction
IQ Autoworks
Erik Swanson Orthodontics