Stayed tuned for details about the 2019 Cool Cat Auction.
Want to get involved? Email Auction chair, Jacyln Imani at auction@davesavehsc.org.
2018 Cool Cat Auction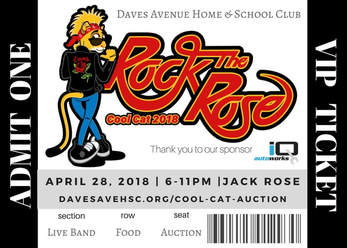 Join us for a VIP evening of partying like a Rock Star at our annual Cool Cat Auction and fundraiser for the Daves Avenue Home & School Club!
Jack Rose Libation House
April 28, 2018
6:00pm – 11:00pm
Who Should Attend?
This is an adult only fundraiser, open to everyone in our Daves Avenue Family, parents, teachers and staff. Come grace the red carpet dressed like your favorite Rock Star!
Registration is now OPEN! We have limited tickets available!!!
Registration will be completed here when you purchase your tickets. If you are
a DOLLARS FOR DAVES
Supporter, your registration is discounted to $75 per person.
Become a
DOLLARS FOR DAVES
Supporter TODAY!
If available, tickets will be offered the night of the event at a general admission price of $200 per person or $400 per couple.Your registration includes:

1. Delicious Jack Rose food
2. (2) Jack Rose libations, plus coffee, tea and water.
3. Dancing with Live Band
4. A truly red carpet experience that you don't want to miss!!!
​
Generously sponsored by: